Three Day National Work on Modern Trends in Research Methodology
November 21 @ 10:00 am

-

November 23 @ 1:00 pm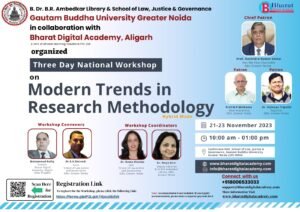 Objectives of workshop
Objective of workshop is to empower researchers with the knowledge and skills necessary to excel in the dynamic world of academic research.
Data Analysis Proficiency
To develop participants' proficiency in data collection, analysis, and interpretation, emphasizing the use of cutting-edge tools and software.
Research Problem Formulation
To assist researchers in formulating clear and concise research questions and hypotheses that align with modern research paradigms.
Enhance Research Skills
To equip participants with advanced research methodology, tools, and techniques to enhance their research skills and capabilities.
Interdisciplinary Knowledge
To foster interdisciplinary understanding by exploring various research methodology applicable across different fields, promoting collaboration and cross-pollination of ideas.
Research Project Management
To teach effective project management skills, to help researchers streamline their work, meet deadlines, and stay organized throughout the research process.
Date: 21 to 23 November 2023
Time: 10:00 AM-1:00 PM
Who can attend
Faculty Members
Research Scholars
Library Professionals
Deputy Librarian
Assistant Librarian
Professional Assistant
Post Graduate Students
Venue
Conference Hall, University School of Law, Justice & Governance, Gautam Buddha University
Opp.Yamuna Expressway Greater Noida Gautam Budh Nagar Uttar Pradesh-201312 Phone No.: 0120-2344200.
To register for the Workshop, please click the following Link:
Registration Link
https://forms.gle/P2LgiA7Njxcd9zfe9
Registration Fee
Faculty Member: Rs.1000/- Research Scholar: Rs.700/- Student: Rs. 600/-
Registration fee for (GBU) participants
Faculty Rs.700/ Student Rs. 500/
Last date of Registration
20 Nov. 2023
https://www.instamojo.com/@bharatdigitalacademy/
Payment Link
Phone pe/Gpay-8006533033
Organized by
Bodhisattva Dr. B.R. Ambedkar Library and University School of Law, Justice & Governance Gautam Buddha University Greater Noida in collaboration with Bharat Digital Academy, Aligarh