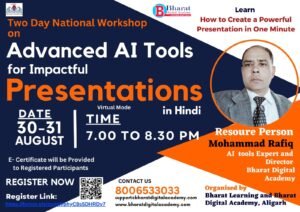 Overview
Bharat Digital Academy (BDA) invites you to a transformative learning experience at the "Two Day National Workshop on Advanced AI Tools for Impactful Presentations." This workshop, designed to equip participants with the essential skills and knowledge of utilizing AI and digital tools for creating engaging presentations, promises to be a game-changer in the world of presentations.
Workshop Highlights
Over the course of two days, participants will immerse themselves in the art of crafting impactful presentations while harnessing the power of AI. From enhancing visuals to intelligent slide generation, this workshop offers an in-depth exploration of various facets of AI in presentation design. 
One of the most exciting features of the workshop is the session on creating a powerful presentation in just *one minute* using advanced AI tools. This not only showcases the efficiency of AI but also empowers participants to produce compelling content quickly.
Date: August 30-31, 2023
Time: 7:00 PM – 8:30 PM (UTC+5:30)
Venue: Online Zoom (Link will be provided upon registration)
Agenda
Day 1:
– Introduction to AI in Presentations
– Visual Enhancement with AI
– AI-Powered Presentation Design
– Intelligent Slide Generation
Day 2:
– Voice Recognition and Speech Synthesis
– Virtual Assistants for Presentations
– Presentation Analytics and Feedback
– Future Trends in AI for Presentations
Resource Person
The workshop will be led by the distinguished Mohammad Rafiq, an expert from Bharat Digital Academy, Aligarh. With a wealth of knowledge and experience, Mohammad Rafiq will guide participants through the intricacies of using AI tools to revolutionize presentation creation.
Registration:
To secure your spot for this enriching workshop, please register by visiting our official website
Registration Link: https://forms.gle/oumWphyC8s5DHRDv7
. Upon registration, you will receive a confirmation email containing the workshop's online access details.
Don't miss this opportunity to enhance your presentation skills and stay ahead in the world of AI-powered communication. Join us on August 30-31, 2023, from 7:00 PM to 8:30 PM (UTC+5:30), and embark on a journey towards impactful presentations with advanced AI tools.
For inquiries, please contact:  8006533033